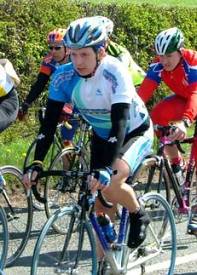 The Royal Sutton Cycling Club was formed in 1967 and since then has been a major part of the cycling scene in North Birmingham. Founded by Keith and Joan Edwards, the club has always been associated with cyclo-cross, mainly because of Keith's International and National Championship promotions in Sutton Park.
However, we have always had club members competing in a wide range of cycling disciplines on the road, in road races and time-trials, and on the track. In recent years members have also taken up mountain biking; and touring and recreational riding have always been a part of club life.
Currently Royal Sutton CC promotes road and circuit racing and is part of the local interclub time trial league, enabling riders to race every Tuesday night in the season.
Its members are riders of all ages, who race in categories from Youth (Under the age of 16) to Veteran (over the age of 40); and who vary from the expert to the novice in ability and fitness.
Club members can ride and train together and have friendly relations with other local clubs, co-operating to provide a full programme for local cyclists. Club youngsters have the opportunity to race abroad and to be part of British Cycling's Talent Team, which is a programme set up to identify the stars of the future.